English, News
Jan 31st, 2013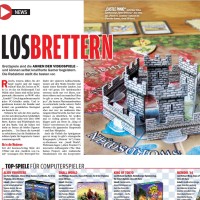 2012 has been an interesting year for my writing business, and I am happy to report that my stories ran in more newspapers, magazines and online outlets than ever.
As usual, most stories were travel features. Particularly popular were two topics: the 100th anniversary of the Calgary Stampede and the Edge Walk at the CN Tower in Toronto. Stories about these two happenings have each been published in five major German and Swiss newspapers. (Among them, by the way, were two great new clients of mine: Mannheimer Morgen and Die Rheinpfalz.)
The most challenging trip of 2012 took me to Reindeer Lake in Saskatchewan. The feature about this adventure should be published shortly in Blinker, one of Germany's largest fishing magazines.
While at home, I started writing about something completely different: board games and board gaming culture. It turns out, Toronto is a center of this growing trend. A feature for Spielbox magazine triggered it all and now I am branching out, writing about board games for new clients such as St. Galler Tagblatt (the King of Tokyo review, for instance) and SPIEGEL ONLINE, arguably Germany's most important news site. Next week, Computer Bild Spiele, Europe's biggest computer gaming magazine, will publish my article about modern board games that may appeal to computer gamers.
That's it for 2012, let's see what 2013 brings!