Board Games, English, News
Mar 10th, 2012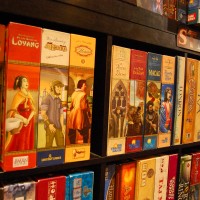 In a city like Toronto where you can basically do anything, what kind of people would spend their Saturday nights in a board game café?
All kinds of people, it seems, from the nerdiest nerd to the trendiest hipster – people who don't mind waiting for hours to get one of the much sought after tables in this not even fully licenced place.
Snakes & Lattes, Toronto's first board game café and probably North America's only successful one of its kind, has become a place for everyone to wine (on some tables), dine and play.
I guess it's a great starting point for my research into the steadily growing popularity of German-style board games in North America, a trend that started in the late 1990's and is still in full swing.
Are you interested in a feature about the café and the board game scene in North America? Contact me! Would you like to talk to me about board games or what you do in that realm? Contact me as well!
It's getting interesting, we are way beyond Snakes & Ladders at this point in time…
UPDATE, April 18, 2012: I have published two board game related features in the last weeks: in SPIEGEL ONLINE as well as spielbox magazine.
UPDATE, August 22, 2012: Liking the whole board game angle and now have published my first game reviews in St. Galler Tagblatt. This one is about "King of Tokyo," "Zombie Dice" and "Junta – Viva el Presidente."