English, News
May 31st, 2012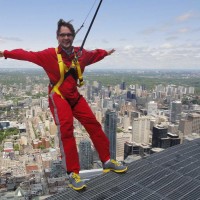 One of the first things you learn about in travel writing classes is that your hometown may very well be someone else's vacation destination. You then realize that you don't have to travel much to write travel features. That's a valuable insight offering you an opportunity to build a portfolio without breaking the bank.
I still like writing about Toronto, particularly when reporting on something truly exciting like the Edge Walk at the CN Tower.
At a height of 356 meters you can walk around the roof of the main pod of the tower. It is the world's highest full-circle, hands-free walk. Imagine being tethered to an overhead rail system and strolling around the edge of the CN Tower – leaning forwards and sitting backwards into the sky! Check out my picture below to get an idea what is going on there!
And stay tuned for additional (and way more exciting!) shots and a spectacular video. My article will shortly be published in Welt am Sonntag Sunday paper, the video will be released on Welt Online.
UPDATE, September 9, 2012: Feature and video have now been published. ANOTHER UPDATE: The feature has been published in print as well check out pages from Welt am Sonntag, Berliner Morgenpost and Mannheimer Morgen.