English, Fly Fishing, News
Aug 7th, 2014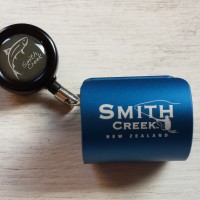 Contrary to what some of the cooler fly fishing websites tell us, one doesn't need "made-by-hipster" rods, head cams and full sleeve tattoos to go "Carp On The Fly" fishing. Basically, use whatever 7 or 8-weight outfit you find in your basement. Add waders and polarized glasses, read either Kirk Deeter's or Barry Reynolds' book and you are good to go.
Yesterday, however, I discovered that one crucial piece of equipment had been missing from my outfit for years: a Smith Creek rod clip. With your rod securely and firmly attached to your chest pack or vest, wading carp flats gets so much more comfortable as you can walk hands free and use both of your hands to change flies or take pictures. A brilliant little piece of equipment. I wish I had found it earlier.
Here's the Smith Creek promotional video. It's cheesy, however, their product delivers as promised!
Occasionally, I write about interesting "Carp on the Fly" online content. Read about my top Carp on the Fly finds of 2013, crayfish flies for Great Lakes carp, inspirational videos, and the special carp issue of an online magazine.
(P.S. I paid for the rod clip myself, would do it again, and have nothing to do with the Smith Creek company.)