English, News
Jul 26th, 2012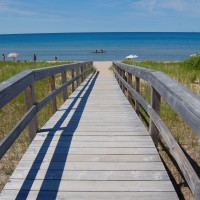 Wasaga Beach, Southampton Beach, Sauble Beach, MacGregor Point Beach, Inverhuron Beach, Port Burwell Beach, Long Point Beach…
The Great Lakes have some excellent beaches, and many of them earned their blue flag designation in recent years. So when the helpful folks at Ontario Parks offered to put together an itinerary for me to check out a few Lake Erie and Lake Huron beaches, I was ready for a little road trip. None of these destinations are more than a 2.5 hour drive away.
Most of the beaches are part of a Provincial Park, and park staff do a great job maintaining these precious natural resources. It's definitely a surprise to travel around Ontario and find yourself in settings that remind you more of the Caribbean than Canada! (And we are talking nature here, not Uptown Toronto.)
If, for your publication, you are interested in a travel feature about Ontario beaches in German or English or would like to see more photos, contact me through my website or Twitter. There is a good chance, however, that I'll be pitching a story idea to you shortly.
While at Sauble Beach, I tried stand up paddleboarding for the very first time. Read all about it in Lisa Greig's post on the Explore the Bruce (Peninsula) blog.