Board Games, English, Fly Fishing, News
Aug 30th, 2012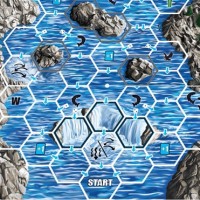 Read a bestselling novel about salmon fishing in the Yemen. Saw the movie with Ewan McGregor. Went on fishing trips to BC and the east coast. And, just yesterday, came across a board game about a salmon river!
Naturally, I was intrigued by "Salmon Run" when I stumbled upon that project on Kickstarter, the crowd funding website that has become so popular with aspiring game designers. If nothing else, "Salmon Run" combines two of my favorite hobbies: fly fishing and board gaming.
"Salmon Run" is a board game, designed by Jesse Catron (here is his campaign video), where salmon race upstream towards their spawning grounds fighting strong rapids, waterfalls, grizzlies and eagles. How is that for a theme of a game?
The rules of "Salmon Run" look solid and the modular boards change up the river each time you play. There is a deck building element (you can see some cards below), and the "Dice Hate Me" podcasters are really fond of the game as well, so "Salmon Run" has something going for it.
Check out the Kickstarter campaign if you may be interested in backing that project.
Update, May 2013: The game has now been published and I have reviewed it online!