English, Fly Fishing, News
Mar 16th, 2013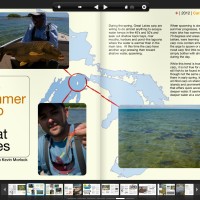 You'd think that the shores of top carp waters such as Lake Ontario would be jam packed with fly anglers, given all the media coverage fly fishing for carp has been receiving in the past years. Yet I hardly ever run into anyone else casting their flies at carp.
The only person I meet on a regular basis when wading the shallow bays of Lake Ontario near Toronto is Gildo, who, admittedly, is out there way more often than I am and who knows a thousand times more about carp behavior than I do.
Gildo is also responsible for getting me my very first carp on the fly. Only an hour or so after he presented me with two of his skillfully tied crayfish flies (behemoths of three or four inches in length) I hooked into a nice 15-pounder. Three more fish followed on that afternoon. I have since used very similar flies and also tried to tie them. For the past three seasons in my neck of the woods, giant crayfish flies have beaten out by far any other dry fly, nymph, woolly bugger, or streamer.
Since it's still too cold in Southern Ontario to actually fish  for carp, I spent some time combing through the web for fly tying instructions that most closely resemble the crayfish fly. This is what I found, try some of them in your home waters!
Davie McPhail ties a great crayfish. However, based on my experience in Ontario, I would modify it slightly, and make it browner, add in rubber legs throughout the body and tie it on a bigger hook.
McPhail also ties a great looking Buechler Crayfish, although I have found that these more traditionally looking flies don't catch a lot of fish here in the Great Lakes… Does anyone agree? Post a comment below, would love to hear from you.
The following video drew some controversial comments, however, I feel this crayfish could be quite popular in the shallow waters, particularly around rocks.
Looking for more about carp on the fly? Read this recent post!