English, Fly Fishing, News
Nov 30th, 2012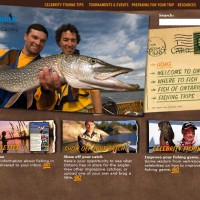 Earlier this year The New Fly Fisher, one of Canada's best fly fishing TV programs, launched a new YouTube channel designated to fishing hot spots in Ontario.
In cooperation with the Go Fish In Ontario marketing initiative, Bill Spicer and other show hosts travel the province fishing for bass, trout, Atlantic salmon, pike and more. All that's missing, for my liking, is some Southern Ontario carp fishing. However, with the growing popularity of that sport, I am sure they'll add a show soon. For now, that leaves more carp for me!
Winter is coming, and it's the best time of the year to browse the YouTube channel and watch some nicely produced fly action. I am inspired to finally do the Algoma Train tour in 2013, something I've been meaning to do for a while. The more northern destinations look promising as well. Check them out.
UPDATE: December 08, 2012: Just watched some of the videos on my TV, looks really great on the "big screen" as well.
In an earlier post I wrote a bit about The New Fly Fisher's Newfoundland channel.