English, News
Oct 31st, 2012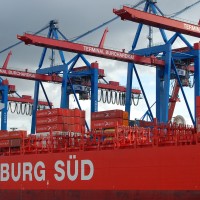 To me one of the highlights of each trip home to Hamburg is the harbor cruise from bustling St. Pauli-Landungsbrücken, the tourist hub of Europe's second largest port (after Rotterdam), to sleepy Finkenwerder, located at the south side of Elbe River.
If you buy a transit day pass, the 30 minutes boat ride is free because HADAG Hafenfähren, the small ferries cruising the harbor, are part of the city's public transit system. Annually, 22 boats (running on six routes) transport almost eight million passengers around the port. It's the perfect way to discover the city. The ferries stop at 25 docks, some of them being main tourist sights, including Landungsbrücken, Altonaer Fischmarkt (the famous fish market!), and the soon to be opened Elbphilharmonie, Hamburg's much anticipated new concert hall.
During my last visit in October 2012, I took a few photos between Landungsbrücken and Finkenwerder. They'll also show how quickly the weather often changes in Hamburg!