English, News
Dec 18th, 2010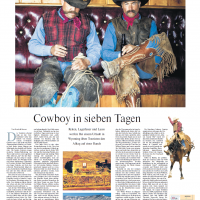 2010 has been an interesting and productive year for me as an outdoor and travel writer, and I could add a number of new publications to my list of clients. Amongst others, newspapers Rhein-Neckar-Zeitung and Die Welt as well as fish and travel magazine Fischabenteuer published my features.
My regular clients such as Fliegenfischen and Northwest Fly Fishing magazines, Tages-Anzeiger, Die Südostschweiz, and Welt am Sonntag newspapers, as well as Welt Online published articles as well.
More features are lying around on editors' desk eagerly awaiting publication. Other articles need to be written in the coming weeks while still others need to be pitched to editors first. So many ideas, so little time…
However, now for something completely somewhat different to wrap up this year.
On Saturday, July 24, 2010, Die Welt published my Wyoming feature on page one of its travel section. National newspaper Die Welt sells 251,000 copies each day and has 751,000 daily readers. They picked a spectacular photo to go with my text. Of all my articles published in 2010, this is my favorite layout: