English, Fly Fishing, News
Jun 30th, 2011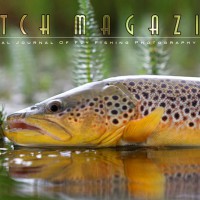 Online fly fishing magazines have been around for a while now, and I think it's time to have a look at what is out there.
This is Fly, Catch Magazine and Ten & Two Magazine are three web publications that feature superb fly fishing photography, film making and story telling. Although it gets increasingly difficult for online and print magazines to find new destinations and truly innovative techniques, these three publications do a great job challenging fly mag conventions when it comes to image quality and overall look and feel.
I have mentioned this before: This is Fly is my favorite online fly fishing magazine. It's not only the sleekest and artistically most ambitious of all fly fishing publications, This is Fly also crosses boundaries to other genres such as "indie" music, arts and style. The magazine blends an urban chic with old school fly fishing, often practiced in extremly remote destinations. The magazine certainly appeals to this downtown Toronto fly angler.
This is Fly sometimes publishes disgruntled readers' letters complaining about the lack of "fly fishing meat" as in when, where and how-to information. I have never seen a response to those notions, but would suggest that, in This is Fly, style indeed does trump content. And why shouldn't it? When you can google the most off-beat fishing destinations and read about them in countless blogs, style can set an online publication apart.
The more I think about it, it's probably more about the magazine's attitude than just about its style. Works for me. Sometimes it's okay to have a bit of an attitude.
This is Fly Daily, the magazine's blog, is fun too.
Catch Magazine is the self-proclaimed "Official Journal of Fly Fishing Photography & Film," and often, the mag features some of the most spectacular images one can find on- and offline. Catch Magazine is a visual delight and takes full advantage of the web's strengths. One could never run a ten page spread on close-up photos of fins in a traditional print magazine. There are some interviews and short articles in Catch Magazine, however, the publication looks and feels like a collection of photo essays and spectacular close-up images. The photography really makes you want to pack your gear, jump on a plane and go fishing in Tanzania, Kamchatka, South Africa or wherever these cool shots were taken.
Ten & Two Magazine has a "distinctly different" approach "from other fly-fishing magazines," as the latest editorial explains. "The journey is the prominent focus–the essence of the outing as opposed to simply a destination." Each issue features the journey to one…ahem…destination encompassing fly fishing, local history, food, culture and art. Ten & Two Magazine found its niche as a publication for travelers who enjoy wetting a fly line when journeying the world on a substantial budget. If you are lacking the means to fly all the way to New Zealand right away, you can still enjoy this excellent e-mag and plan your dream vacation sometime in the far, far future.
In Part II, coming soon, we'll be looking at some Canadian online magazines and prominent websites.