English, Fly Fishing, News
Jan 15th, 2011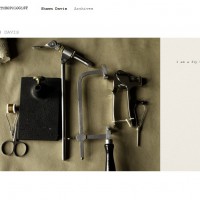 Anthropologie retail stores have an interesting brand communication tool in place: The Anthropologist website, an "online space for inspiring works and inspiring individuals."
This site has no obvious connection to the retailer and there are no items for purchase. Each month the site features one or more individuals "who move us in order to move you." Furthermore, the website champions "the idea that sharing sources of creativity in turn kindles it." In 2010 the Anthropologist showcased craft metalworkers using century old techniques, motion studies of ballerinas and an artist inspired by Siberian landscapes, among others.
The individual for January 2011 is fly tier Shawn Davis, and this is how the Anthropologists explain their choice: "turning such a practical thing as fly fishing into artwork – and innovating within an age-old craft while doing so, as Davis does – serves as a stirring reminder to search for art in the everyday." Sounds corny? Click through the images and read what Davis has to say. What you'll find is better than much of the photos and articles you see in some fishing magazines.
The website does an amazing job of communicating the beauty of fly tying to an audience unfamiliar with this pastime. It really serves as a reminder to outdoor writers that there are more clients out there than a few dozen magazines. Why not pitch your photos to a lifestyle mag next?
Note: If you read this post after January 2011, you may want to look for Shawn Davis in the Archives section of the Anthropologist website.