English, Fly Fishing, News
Sep 20th, 2010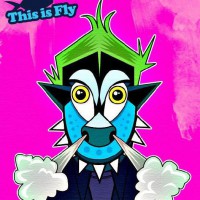 Fly fishing is online. There are a bunch of "where, when and how" forums, a few interesting blogs and at least two regular podcasts. But how many good online magazines are out there?
I would think there is one: This is Fly. By mixing fly fishing topics with ecology, lifestyle, arts and music, the cool and sleek magazine stretches the boundaries of conventional fly fishing publications. Every cover is designed by an artist who is featured with a substantial portfolio in the magazine as well. Every issue also contains a playlist of songs to listen to while reading through the pages of This is Fly. And there is a lot to read. The articles and photos are excellent, at times a bit out there, but always entertaining. The hip layout of the magazine is an absolute eye-pleaser.
This is Fly is published in Brooklyn, New York City. It is definitely worth checking out this link!