English, News
Mar 21st, 2011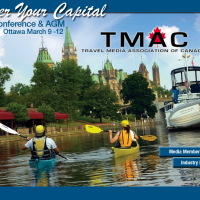 I recently joined the Travel Media Association of Canada (TMAC). Last week, TMAC held its 2011 Conference & AGM in Ottawa. This meeting is one of the premier Canadian networking and personal development events for members of the travel media industry.
Attending the conference is a great perk of being a TMAC member. Having face-to-face time with fellow writers and travel professionals from all over the country, exchanging ideas and getting the latest industry news is well worth going through the rigid TMAC membership qualification process. As a writer, you have to have published a substantial number of travel features in publications of a certain caliber over the past two years. This information is scored and considered in the qualification process. These requirements ensure that each and every TMAC member is an active writer.
The conference was quite the adventure and everybody had a great time, unfortunately I missed Scott Stratten's Opening Keynote Speech. Scott is a motivational speaker and the President of UnMarketing. He is widely recognized as a top influencer on Twitter and a guy whose client videos have over 60 million views.
We all got a copy of Scott's book UnMarketing: Stop Marketing. Start Engaging., which I read on the VIA Rail ride back to Toronto. In lieu of a lengthy review, here are ten lessons I learned from Scott and put into action within one week. How many books have made you do anything right away (or at all, for that matter)?
1. Stop reading more advice books, start acting upon what you've read. (Checkmark!)
2. Start creating content on your website to make it more valuable to visitors. (Checkmark!)
3. Create Top Ten lists on your website. They are great content. (Checkmark!)
4. Don't use a logo on Twitter. Use a photograph of yourself, so that everyone knows who you are when you finally meet them. (Checkmark!)
5. Start listening on Twitter, don't just talk. Get engaged. (Checkmark!)
6. Allow comments on your blog to further engage with your audience. (Checkmark!)
7. Start positioning yourself as a subject matter expert in your industry. (Checkmark. It says "start.")
8. Okay, get one more book: Scott's free ebook. (Checkmark!)
9. Be authentic! (Checkmark. Have you seen my new Twitter avatar?)
10. Don't call yourself a Work-at-Home Mom anymore. (Checkmark. This was the hardest.)