English, Fly Fishing, News
Nov 12th, 2011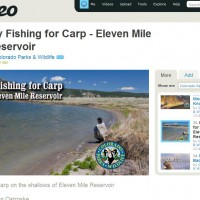 Again, it's that time of the year: you wake up one day just to realize that the weather has been pretty chilly for most of the week and that it is already mid-November. The warm days are gone and will only be back in half a year.
In November, I usually sit in front of the computer regretting not having done enough fly fishing during the warmer months. My second regret (specific to 2011) is that I didn't really shoot any great fishing videos, although my goal for this summer was to have mastered my camera and editing software. So there is my first goal for 2012.
In 2011, I only put together one video (150 seconds long!) of my friend Gildo fighting and netting a carp of about 20 pounds. That was back in May.
Luckily, some people have shot amazing videos in the last months and have made them available online. I have come across a number of particularly nice "fly fishing for carp" videos. Below are two of my favorite clips.
Colorado Parks & Wildlife shot this great instructional video for aspiring carp anglers, "Fly Fishing for Carp – Eleven Mile Reservoir." Though filmed in Colorado, the tips seem applicable on all shallow flats of big lakes:
Barry Reynolds uploaded this fantastic trailer for his upcoming feature film "Carpaholic:"
WFN has this short instructional video online: "How To: Catch Carp On The Fly For A Beginner."
Field & Stream has dedicated a whole episode of their show Hook Shots to "Carp on the Fly."