English, Fly Fishing, News
Feb 4th, 2012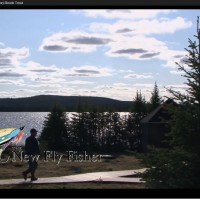 If you are planning to visit the Canadian east coast to go brook trout or Atlantic salmon fishing, you may now be better equipped than ever when it comes to deciding which lodge to pick.
The New Fly Fisher, an iconic Canadian TV show, has recently visited over ten lodges in Newfoundland and Labrador and dedicated an episode to each lodge. The professionally edited and narrated videos are now available online. You can watch the shows on The New Fly Fisher's YouTube channel.
To my knowledge this is the most extensive video database about fishing lodges in any region of the world. Kudos to The New Fly Fisher for uploading these episodes even before their airing on cable TV.
Of those lodges, I have only visited one: Mayflower Outfitters. I had a great time fishing for Atlantic salmon and later published reviews of my fishing trip in Eastern Fly Fishing, FliegenFischen, the biggest German fly fishing magazine, as well as German Sunday papers.
Check out some of these videos below and go salmon fishing this spring!
Featured lodges: Mayflower Outfitters, Flowers River Lodge, Grey River Lodge, Tuckamore Lodge, Crooks Lake Lodge, Island Safari Outfitting, Main River Safari, Coopers Minipi Lodges, Igloo Lake Lodge, McKenzie River Fly Fishing Lodge, Hawke River Outfitters, Gander River Lodge, Osprey Lake Lodge.
UPDATE, December 08, 2012: Ahhh. The video links were broken for a while, now they are working again!