English, News
May 10th, 2010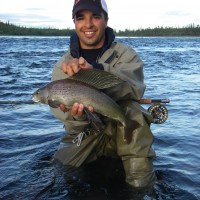 Northwest Territories Tourism decided to go with one of my shots for the cover of their 2010 Fishing Guide.
That is great! The photo shows guide Dan Miguel and a beautiful Arctic Grayling. I took the photo when I visited Frontier Fishing Lodge some time ago. The grayling was taken in the Stark River – amazing and phenomenally productive waters for any dry fly angler!
It's a very popular photo that has been chosen by editors of Fliegenfischen fly fishing magazine and Northwest Fly Fishing magazine for publication before.
Read about the Stark River in a review (PDF) I wrote for Northwest Fly Fishing magazine. The Fliegenfischen article (PDF) is about both Great Slave Lake and the river.
Here is a PDF of the 2010 Fishing Guide's cover.