English, Fly Fishing, News
Jan 9th, 2014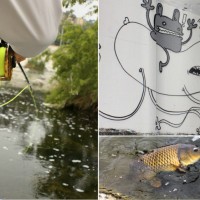 Last week temperatures in Toronto dropped to minus 40 degrees Celsius and Lake Ontario froze over. At about the same time I found some really nice "Carp on the Fly" videos online that made me miss summer.
I'll probably have to wait until mid May to again fish for carp in my favorite Great Lakes bays, so the best thing I can do right now is scan the internet for content like this. Comment here or shoot me an email if you find more good stuff!
Podcasts: Kirk Deeter shares his top ten tips for carp, and Dan Frasier adds some advice. Earlier in 2013, CarpPro magazine started the FlyCast podcast and released six episodes.
Each issue of the CarpPro e-magazine features articles on fly fishing too.
Tom Rosenbauer shows how to fish for carp and catches a really nice fish while out in a restaurant!

See All Orvis Learning Center Fly Fishing Video Lessons 
This video captures the essence of summer fly fishing for carp:
Click here to find more "Carp on the Fly" content on this website.