English, News
Sep 27th, 2014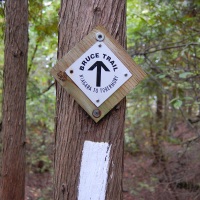 After so many years of living in Ontario I finally managed to make it to the Bruce Trail for a few days. I was lucky enough to "test" Explorer's Tread's newest three-day hike, the so-called "Smoke of the Lion's Gun Backpacking Trip" near the town of Lion's Head. The trip includes Lion's Head Lookout as well as Gun Point Lookout, hence the name.
Three days out on the escarpment and I believe my guide Zane got it right: "This is the best part of the Bruce Trail!" Zane, who recently hiked the popular West Coast Trail on Vancouver Island, even thinks that around Georgian Bay one gets some of the best views in Canada.
A few photos are posted in the Storify below. Check them out and visit the Bruce Peninsula the next time you are looking for an outdoor destination in Southern Ontario.