Board Games, English, News
Dec 30th, 2013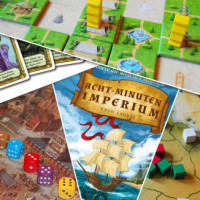 In Germany, board game publishers generate roughly 60 percent of their annual sales in December. Naturally, the days leading up to Christmas are the ideal time to publish game reviews online and in print.
On stern.de, the web presence of stern magazine, with 5.7 million unique monthly visitors, I present this year's five best games for families and casual groups. Here are the games that make the illustrious cut: Bruges (my favorite game of 2013), Eight-Minute Empire, Qwixx, Sanssouci, and Love Letter.
Two newspapers, Schleswig-Holstein am Sonntag and Schweriner Volkszeitung, with a combined circulation of about 120,000 copies, published my gift guide of the ten best games of this year. In addition to the five games already mentioned, I suggest buying: Bora Bora (if you like highly complex games), Hanabi, Polterfass, Sticheln, and King of Tokyo (published before 2013 but still very good).
Fans of train games can read about the various Ticket to Ride editions, Rolling Freight, First Train to Nuremberg, and Höchste Eisenbahn in a feature for Eisenbahn-Kurier, Germany's largest train magazine.
Between January 1st and December 31st, I reviewed 34 games in various publications, here are links to all articles.