English, Fly Fishing, News
Dec 16th, 2012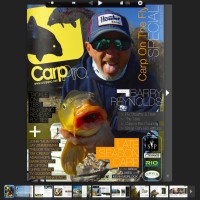 For the past three years I have been fly fishing for carp, and I still think it's a super exciting way to catch fish. This is particularly true when you live close to the Great Lakes where a lot of carp grow into the 30+ pound monster category.
Every now and then I've written about this relatively new, yet fast growing branch of the sport. The posts aren't so much about my own fishing experiences, but about linking to others' great content that helps us understand how carp tick. (For the European readers, here is a post in German.)
Now however something new is online: CarpPro magazine launched one of the best resources yet for fans of "carp on the fly." The December issue of the emag is entirely dedicated to fly fishing. Some of the most prominent spokespeople of the sport, such as Barry Reynolds (author of "Carp on the Fly"), Kirk Deeter (his book is being published in 2013) and bloggers (John Montana, Mr. P.), share their carp fishing insights. It's 128 (free) pages filled with fishing tactics, tying instructions and neat photography.
It's great to see that carp fishing is becoming so popular in North America. Also, it's amazing that the "carp on the fly revolution" is spearheaded  over here, where carp has been regarded a "trash fish" for way too long!